On September 7, 2016, Robert Wood Johnson University Hospital threw a party for the new Bikur Cholim room.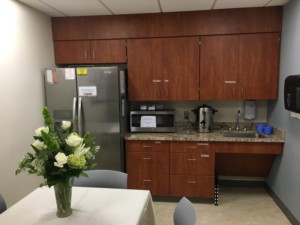 Michael Antoniades, President and CEO of the hospital, welcomed the many attendees, including Rabbi Bassous, Rabbi Drucker, Rabbi Miodownik and Rabbi Mykoff from the local community; New Brunswick's Mayor Cahill; Rev. Tiina Nummela and Rev. Ann Shamy from the RWJ Pastoral Care Department; members of the hospital's Board of Directors, numerous physicians and staff and Auxiliary, and Bikur Cholim volunteers, friends and Board members.
Mr. Jack Morris, Chairman of the hospital's Board, spoke of the importance of the new facility and made a special presentation to Bikur Cholim.
Rabbi Bassous spoke on behalf of the local Rabbis, and Mrs. Rahel Baruh spoke on behalf of Bikur Cholim. She warmly thanked the hospital and the Morris family for their vision and commitment to Bikur Cholim and their support for the new state-of-the-art facility.
Attendees enjoyed kosher refreshments from Glatt 27 in the Arline and Henry Schwartzman Courtyard and then gathered at the new Bikur Cholim room for the ribbon cutting by Rabbi Bassous and Mr. Morris. (more…)